When the skin is experiencing redness, there could be several causes. Dermatitis, heat rash, folliculitis, rosacea, psoriasis, and shingles are some of the many skin conditions that cause redness on the skin. Redness may be present as the blood rushes to the skin's surface to fight off any irritants whilst encouraging healing. There is a myriad of options available to treat redness on the skin ranging from topical creams to PDT and lasers to name a few.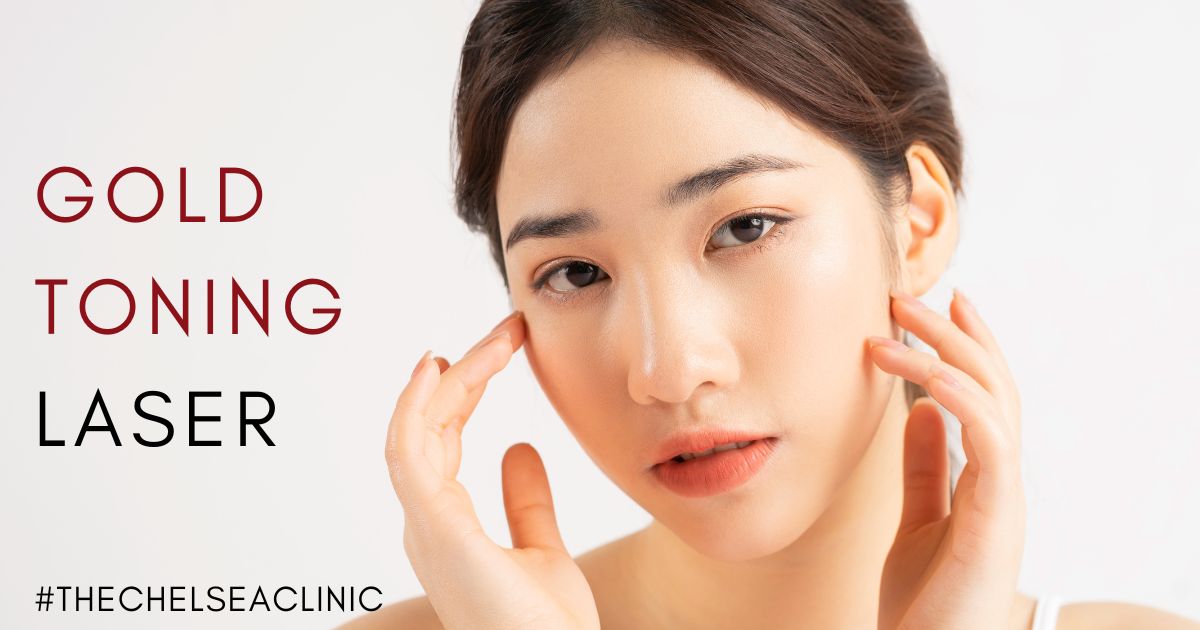 Gold Toning Laser is a laser that targets and renews cells back to their original, healthy state. The success and accuracy of this treatment have attracted the attention of many professionals. The laser will convert damaged or negatively affected cells into healthy cells, removing any unwanted pigments and debris. The Gold Toning Laser also keeps your skin clean and pigment-free for a considerable duration. Aside from treating redness on the skin, the Gold Toning Laser is also a treatment option that effectively promotes the renewal of cells, therefore reducing the appearance of acne scars. This treatment option can be completed in 20 minutes and has little to no downtime.
As with all treatments, a combination of laser and a proper skincare routine will maintain the condition of your skin for a longer period of time. The Chelsea Clinic recommends a consultation with our doctors to figure out the root of the problem and what you could do to improve your skin. We would be glad to assist you.
PDT (Photodynamic Therapy)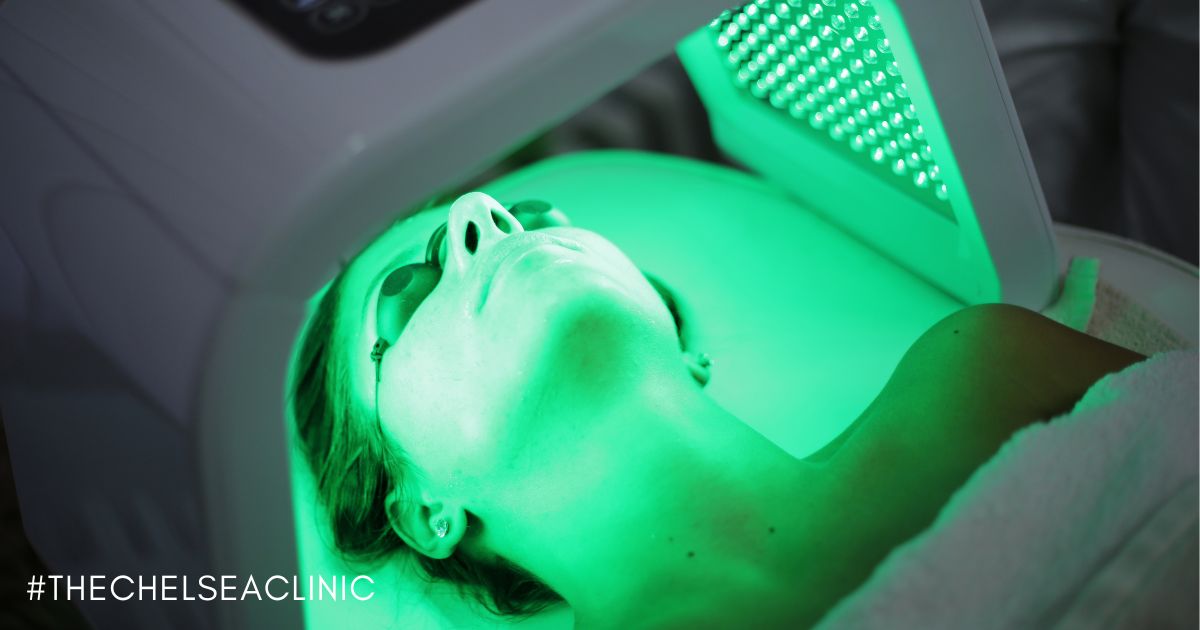 Photodynamic Therapy (PDT) is a non-invasive cosmetic procedure that uses different lights to treat different conditions of the skin. PDT helps to treat conditions such as acne, enlarged pores, wrinkles, and unsightly lesions caused by sebaceous hyperplasia.
The PDT tool emits different light in different colours which penetrate the different layers of the skin, "waking" it up.
Red is used for the regeneration of skin cells, promotes blood circulation, relieves acne scarring and pain, and activates the active ingredients in the skin. Blue is used to kill acne bacteria, inhibit sebaceous glands, calm allergic skin, and prevent wound infection. Green is used to put the skin into a good physical and mental state for a calming effect.
Yellow is used to effectively treat skin flush, as well as to relieve redness and swelling. Orange is used to penetrate deep into the skin to accelerate the metabolism of active tissue, decompose stains and improve fine lines. Purple is a combination of blue and red light that is used to improve skin that is affected by acne and acne scarring.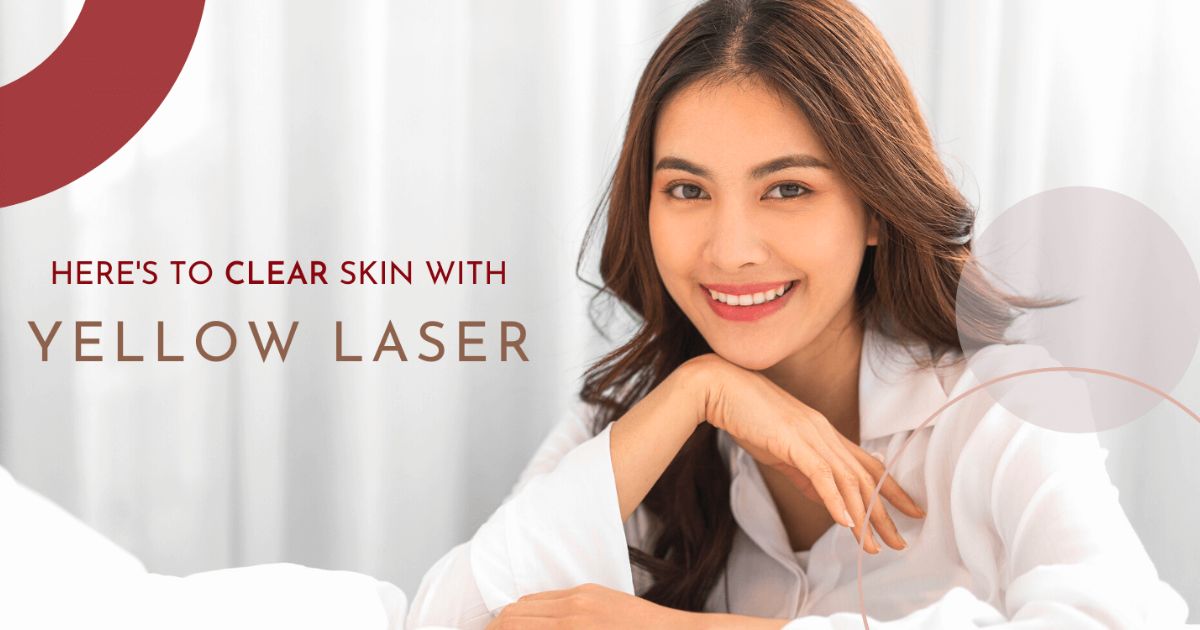 Dual Yellow Laser is a FDA-approved multi-wavelength laser treatment that targets and eliminates a wide range of skin conditions. This laser combines both yellow and green lights to work on most skin types. Most individuals use the Dual Yellow Laser to treat and prevent acne, treat melasma, pigmentation, and vascular lesions as well as brighten the skin.
Dual Yellow Laser treatment has little to no downtime. The Dual Yellow Laser can also be combined with other treatments to enhance and prolong results. However, it is recommended that skincare products that contain acidic properties should be avoided to allow your skin to repair.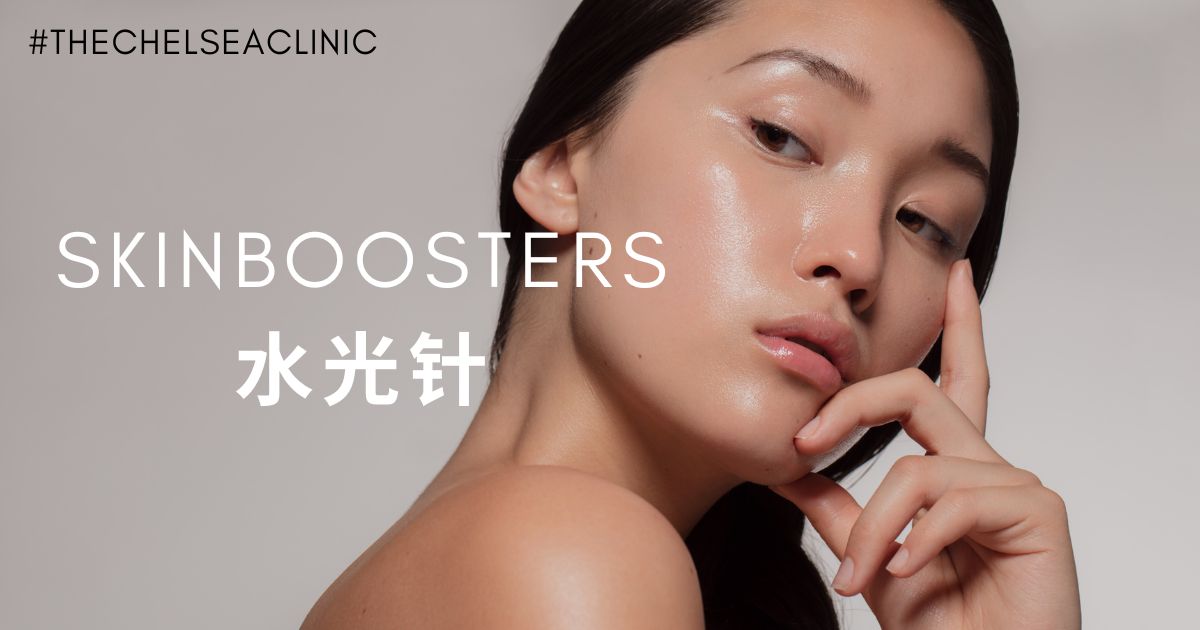 Nonsurgical cosmetic procedures such as Dermal fillers (Hyaluronic Acid fillers) and Skinboosters have been popular amongst patients. Skinboosters contain hyaluronic acid that hydrates the skin deeply whilst improving collagen production. This acts as an anti-ageing and whitening treatment and reduces the size of pores.
Skinboosters are injected using a dermal injector gun or the more traditional hand injection technique. When a skinbooster is injected into the skin, the hyaluronic acid present attracts up to 1000 times its weight in water, substantially improving the hydration levels of the skin. The process is seen almost immediately, as the skin appears moisturised and younger looking.
Some of the conditions skinboosters are able pigmentation & melasma, inflamed skin, sagging skin and enlarged pores.
Skinboosters act like water reservoirs by absorbing and retaining moisture resulting in long-term hydration. Skinboosters are also able to reverse UV damage and improve skin texture and elasticity by stimulating collagen and elastin growth, giving the patient an improved glow and radiance to their skin.
If you would like to know more on our aesthetic procedures and whether it is suitable for you, please call our clinics to make an appointment.
Alternatively, you may submit your enquiry using the form below: